Sécurité : comme au Dakar !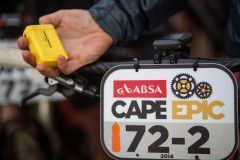 Lors du Cape Epic, les organisateurs mettent en place une grosse infrastructure pour garantir la sécurité des participants. Chaque équipe est ainsi équipée d'un boîtier "tracker" combinant 2 fonctions :
- le suivi en temps réel des participants
- mais surtout une fonction de sécurité (assistance d'urgence) que chaque concurrent peut déclencher en cas de problème
Comment çà marche ? Regardez la vidéo ci-dessous, c'est assez impressionnant...
Tracker is the Official Tracking & Logistics Partner to the Absa Cape Epic. They have used their technology to custom-build a mobile tracking device specifically for each team, which weighs approximately 79g. This tracks your whereabouts, locates you in the event of an emergency, guides emergency response services to you using the shortest route possible, and allows your friends and family to track your location. For the duration of the race, there will be live tracking at www.cape-epic.com.
You will need to take note of the following:
Each team will receive ONE Tracking Unit per team on the day of registration and the unit's battery will be fully charged.
Each unit is allocated to a specific team and should not be swopped with another team.
At the start of each stage, you will be reminded to switch your Tracking Unit on. The LED light will flash to show that the unit is on and then it will fade to conserve battery power.
In the event of an emergency of any nature, press the RED emergency assist button on the unit. HOLD THIS BUTTON FOR AT LEAST 5 SECONDS. The LED light will flash showing that the distress alert has been sent, and an emergency crew will be dispatched. Remain at your location until emergency crew arrives.
After each stage, a representative of Tracker will exchange the battery of the unit for you when you exit the Woolworths Recovery Zone. Please ensure that you get your unit before you leave the Recovery Zone.
After the last stage at Meerendal, please ensure that you hand your unit back to a Tracker representative.